Driveways & Patios Albany, NY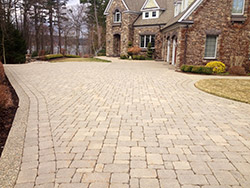 If you are looking for hardscape specialists in the New York area, you've come to the right place. Orsini Landscaping has been providing hardscaping services for more than two decades already, making us experts in creating awesome and long-lasting outdoor features. You can see some of our beautiful creations in Albany, Bethlehem, Schenectady, and other major cities in the state. These projects include design and installation of retaining walls, driveways, columns and pillars, garden steps, walkways, and patios.
Please call us right now so we can discuss with you how we can make your outdoors more appealing with the various hardscape features and amenities that we can design and install. We also offer special packages for projects involving driveways and patios. Call us at 518-355-3004.
Our Advantages as Driveway and Patio Builders
All our past and present clients from Albany, NY and surrounding areas commend us for our quality workmanship and systematic approach when working on their driveway or patio projects. Here are some more reasons why we are the top choice of most property owners in the Capital District and other areas we serve:
Decades of hands-on experience. We know that property owners want only the best people to work on their properties. And here at Orsini Landscaping, we assure clients that they will be getting the services of a company with extensive experience in the landscaping and hardscaping industry. We have more than two decades of hands-on experience in creating driveways and patios, and we're proud to say that all our clients are more than satisfied with the results of our work.


Techo-Bloc accredited contractor. Our company only uses top-of-the-line pavers for our driveway and patio projects. We carefully select our partners to give clients products that are made from the finest materials and manufactured using modern technology. As an accredited installer of Techo-Bloc, you are not only assured of premium products but also superb installation.


Industry certifications. Our industry certifications are proofs of our skills and capabilities in handling various hardscaping projects such as driveways and patios. We are ICPI- and NCMA-certified installers, so we are updated on the latest masonry techniques and methods. As certified paver installers, we can assure you of a durably built driveway or patio.


Home-grown and family-owned company. Another advantage of Orsini Landscaping over other contractors in the state is our highly personalized services. We sit down with clients and discuss with them the various options for their driveway or patio projects. We ensure that their preferences and needs are addressed properly so they will be satisfied with the outcome of the project. Since we are a home-grown company, we know the trends, the culture, and the needs of the people in the areas we serve. This is the reason why we can always provide them with outstanding designs and functional outdoor features.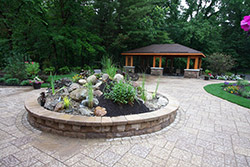 We Build Long-Lasting Driveways and Patios
At Orsini Landscaping, we don't just create exquisitely designed driveways and patios for our clients. We also guarantee the quality of our creations, which are built to last a lifetime. In fact, most of our completed projects in Albany decades ago are still in their prime conditions despite constant beating from harsh outdoor elements. They can withstand heavy vehicle traffic, freeze and thaw cycles, and other damaging elements.
Our use of premium pavers and unmatched skills of our installers are just some of the reasons why we can create long-lasting driveways and patios. Let us also build one for you by calling us today at 518-355-3004.
We Provide Services to the Following
Cities and Surrounding Areas in NY: